Discover Kenya "Big 5, Savanna"
Karibuni kwa Kenya (welcome to Kenya) where magic begins. Kenya drives its destination name Magical Kenya from the varsity wildlife and beauty it offers to all its tourists. Kenya is located in the Eastern part of Africa with a population of 47.6 million people with its capital city and largest town Nairobi. An African Safari in Kenya will take you on a journey to experience the great annual wildebeest migration, the big cats (lion, leopard, cheetah) in its parks. These range from a visit to the classic parks of Masai Mara National Park, Amboseli National Park, Aberdare National Park and Tsovo East & West. Encounter the different authentic cultures of the Kenya people from Masai to the Sambura people. Kenya is a destination we recommend for first timers on a safari.
Suggested itineraries for Kenya
These itineraries give you a starting point for what your trip to Kenya could entail. They cover routes we've found work particularly well and feature some of our favourite places to stay. Treat them as inspiration, as each trip is created uniquely for you.
Best Time To Visit Kenya
You can visit Kenya throughout the year on safari but if you are interested in the great wildebeest migration through the Mara River then July — October is the best time.
During this time, you will witness the struggle along the Mara river as the predators eat the life out of the beasts. Always ensure you have your own transportation during your safari to ensure you are comfortable and book in time.
Accessibility
Kenya is located in on the African continent on the Eastern part and can be accessed from different parts of the world. Below are the different ways you can reach Kenya. As an air hub in Africa, Nairobi is connected to over 20 destinations daily through Kenya Airways and arrival destination for most tourists.
By Air
Kenya is accessed by a number of international airlines from the rest of the world through it's three international airports; Jomo Kenyatta international Airport (Nairobi), Moi International Airport (Mombasa) and Moi International Airport (Eldoret). The Airlines that fly to Kenya's airports or serve the East African route as shown bellow;
Europe (daily flights from Zurich, London and Amsterdam)
KLM Royal Duchess
Emirates Airlines
Kenya Airways
Qatar Air
United States of America or North America (Daily flights from New York and JF Kennedy via either Dubai, Amsterdam, Zurich and London)
KLM Royal Duchess
Emirates Airlines
Kenya Airways
Qatar Air
Swiss Air
Far East, Asia and Australia (Daily flights from Mumbai, Bangkok, China- Hong Kong, Guangzhou and Shanghai). These airlines have connection flights via Dubai, Doha and Singapore.
Air India
Emirates Airlines
Kenya Airways
Qatar Air
Domestic Flights; These offer faster transport to the National parks and surrounding areas through Wilson Air strip.
Air Kenya
Safarilink
Mombasa Air
Fly540
By Road
Kenya is accessed by road through use of bus operating companies coming from different parts of Africa. These buses also operate in the capital cities of these countries that is Uganda – Kampala, Somali- Mogadishu, Tanzania – Dare Salam & Arusha, Ethiopia- Addis Ababa and Sudan- Khartoum. Immigration is always processed at the boarder stations and always consult with your Tour Agent or Tour operator.
By Sea
Mombasa the oldest town of Kenya is one of the most exciting and exotic places in the world. The port at Mombasa receives a huge number of cruise liners on holiday or business to East Africa. The ferries at the sea are used to transfer the tourist vehicles from the north pole to the southern pole that offers that most exciting and relaxing beach life in Kenya. This connects you the breath-taking coastal beaches, swimming with dolphins at Wasin island.
Select your Destination by Mood
In the mood to travel? You have to be more specific! and, match your mood to your destination!
The Best Kenya Safaris Circuits
There's a lot to see during your vacation in Kenya and you need a local African Safaris company to take you through all the spots so that you don't miss out on any of the amazing and memorable experiences. Your budget will dictate on how much time you spend in magical Kenya and transverse the different attractions it has to offer. If you are someone who loves the wilderness, Kenya is the best place to realize your dream of an African vacation. For a safari you may choose from game drives, beach holiday, cultural tours or even flight safaris to mention but a few. However, your safari planner will help you choose which type of destinations to visit as per your desire.
Kenya safaris are divided into three circuits as per below;
South East Circuit
This circuit offers you the best connection to the beach safaris in Mombasa, Watamu and Lamu.
Tsavo East and West park is the largest of all the parks in Kenya with huge volumes of wildlife due to the combination of Savanah and semi desert vegetation. The park is known for huge numbers of lions and that's where it derives the name Man eaters of Tsavo. A trip to this park should be at least 2-3 days to be in position to explore the entire park.
Amboseli National park is one of the most popular parks in Kenya with magnificent views of Mt Kilimanjaro that offer beautiful sights of elephants and other wildlife.
Extension addons to this circuit
Masai Mara for the wildebeest
Beach life in Mombasa at Diani, Lamu and Nyali
South Western Circuit
This is the most popular of all circuits where safaris in Kenya begin
Masai Mara game reserve is Kenya's selling point for all safari and famed for the encounters of the big cats and wildebeest migration that happens every year. We recommend a safari of 2-4 days to enable you explore the parks scenic beauty.
Lake Nakuru National Park which is famous for the millions of flamingoes, white and black northern Rhinos'. A safari in this destination we recommend a 1- or 2-days visit depending on your budget.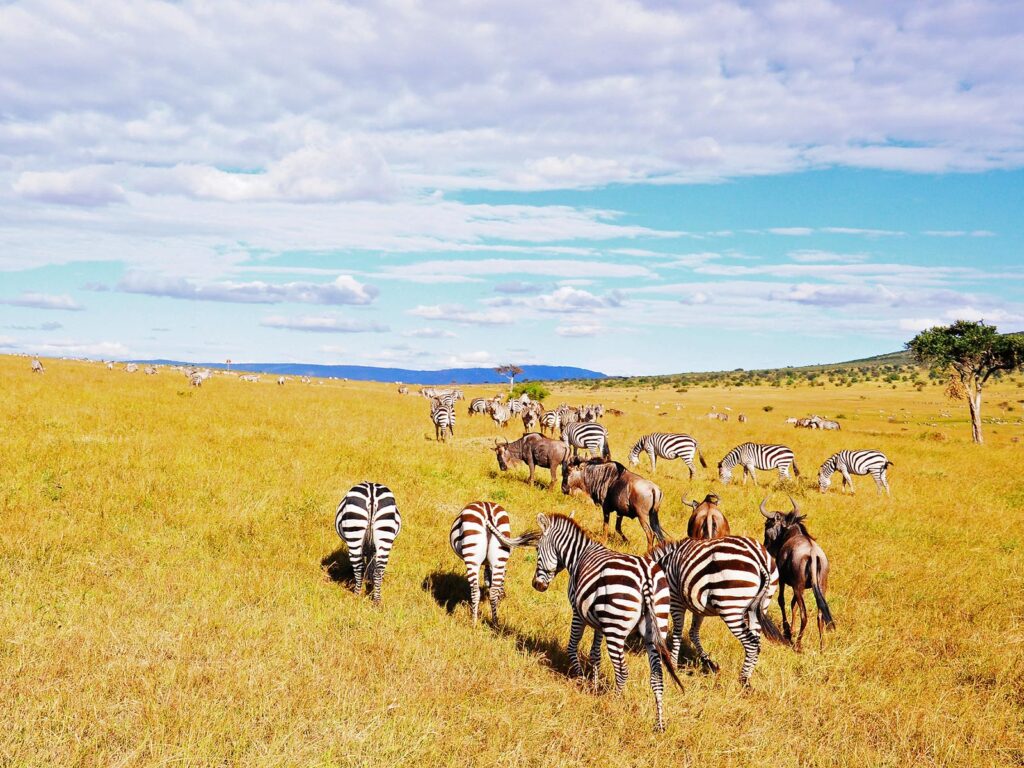 Extension addons to this circuit
Amboseli National park
Hell's gate and Lake Naivasha for walking safaris
Lake Bogoria for flamingo extravaganza
Central and Northern Circuit
Located in the remote part of Kenya and offers a game views of unique wildlife
Aberdare National park with unique wildlife viewing and tree top hotels as well as Noah's ark giving the park that topnotch look. Safaris in this area will take 1- 2 days to explore the park
Samburu and Buffalo Springs National Park: The reserve is one of those in Kenya with an abundance of rare species of the gravy zebras, Reticulated giraffe and Beisa Oryx (Samburu special). Safaris in this area will take 2- 3 days to explore the park
Laikipia Plateau offers great views of the endangered White and Black Rhinos in this area. We recommend a safari of 2-3 days to have a great time in the destination.
Extension addons to this circuit
Masai Mara for the wildebeest
Mount Elgon for hiking and mountain climbing
One can also book a combined safari with other countries in East Africa as an addon of gorilla trekking and chimpanzee trekking in Uganda and meet man's closest relatives as well as cousins. Also, on top of that Tanzania and Rwanda safaris. Kenya will always offer you lasting memories from wildlife safaris, beach holidays, group, romantic, honeymoon, family tours all in one.
The pearl of Africa will offer you a slice of of everything Africa Safaris have to offer and the best destinations to visit. Trek Africa Tours offers a variety of gorilla trekking safari options at unbeatable rates. Contact us for the best rates at info@trekafricatours.com or call us /WhatsApp us +256705767137 to start planning your safari / tour today!
Entry Into Kenya Requirements
Passport
To be permitted entry to Kenya, you will be required to have a valid passport with at least 6 months to expiry date and a one empty page.
Visa
You will need a visa to be permitted entry into Kenya. Check your consulate for lates valid information about your visa to Kenya. There are two visa types to choose from that is a single-entry visa to Kenya at $50 or an East African Visa for multiple entry to Kenya, Uganda and Rwanda at $100. The process of application of the Kenya visa is either online or on arrival at the Airport. Please note that your yellow fever certificate will be required during the application process.
Suggested East Africa Safari Ideas
The tours featured throughout our website are intended to give you ideas for what's possible when you travel with us. Treat them simply as inspiration, because your trip will be created individually by one of our specialists to match your tastes and budget.
For Expect Help - Fill the form below
---