Arcadia Lodge: Luxury Accommodation with Breathtaking Views of Lake Bunyonyi
Nestled on a hill overlooking Lake Bunyonyi in Kabale, Arcadia Lodge offers guests magnificent views of the rolling hills that surround the area. This luxurious lodge is the perfect choice for those seeking comfort and relaxation amidst stunning natural beauty. With warm Ugandan hospitality and a menu that features both local and international cuisines, you're guaranteed to have a memorable stay.
Arcadia Lodge offers an unforgettable experience with its breathtaking view of Lake Bunyonyi – one of the deepest lakes in Africa. It's the perfect place to unwind and take in the natural beauty of Uganda. Additionally, the lodge ensures the safety and health of its guests by following all standard operating procedures set forth by the health ministry.
Located in southwestern Uganda, Kabale Town is a bustling transportation hub that also serves as a market town. It's about 337 kilometers from Kampala, and a 7-hour drive from the capital. If you're planning to visit Lake Bunyonyi or continue on to the DRC Congo or Rwanda, Kabale Town is a great stopover. This independent town boasts banks, schools, a university, a hospital, and many more amenities.
Experience Modern Comfort with a Touch of African Architecture at Arcadia Lodge
Experience modern and authentic African architecture at Arcadia Lodge, where we provide a range of clean and comfortable rooms to choose from. Whether you're looking for a standard or luxury option, we have something to suit every need. Stay connected with our free Wi-Fi and take in the natural beauty of our gardens and terrace during your downtime. Our rooms cater to all preferences, including double, single, twin, and family rooms. Choose Arcadia Lodge for an unforgettable stay during your gorilla trek.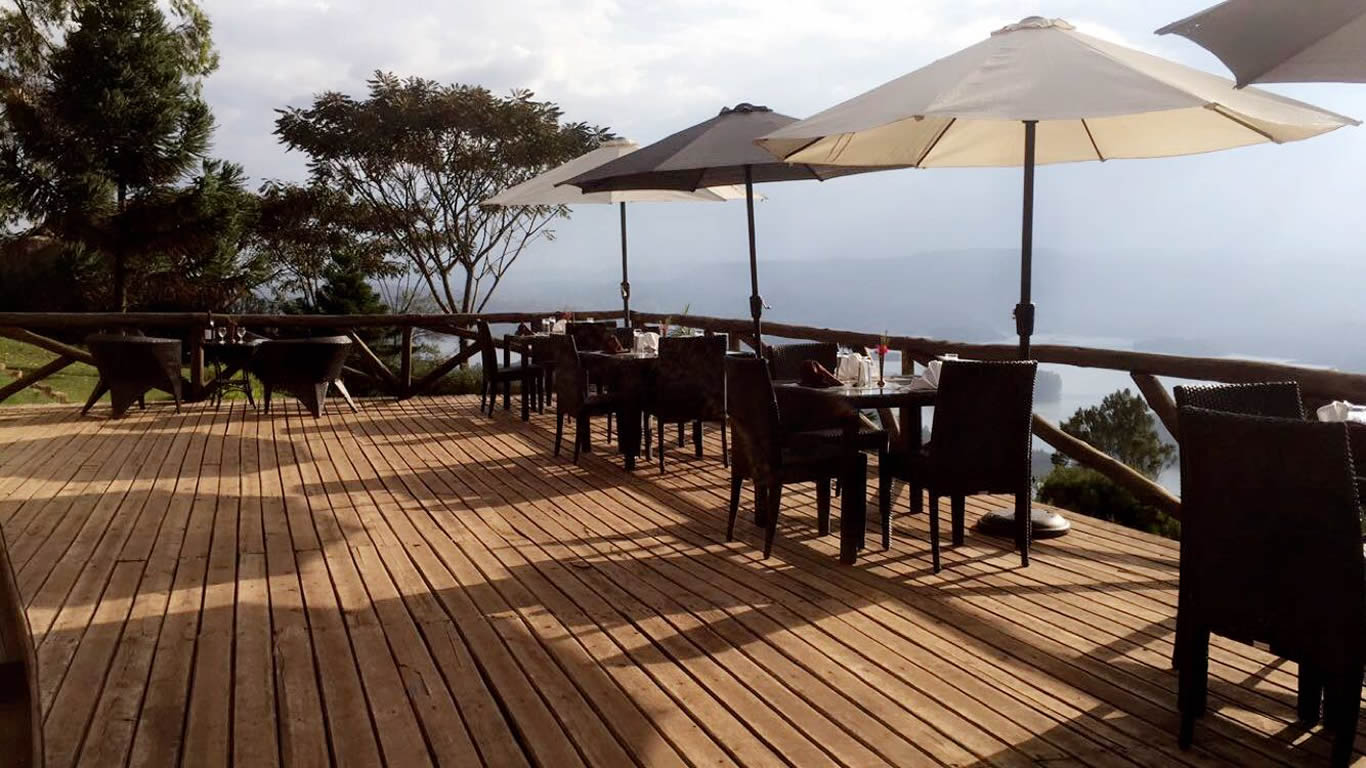 How to Reach Arcadia Lodge: Options for Transportation
Arcadia Lodge offers different options for transportation depending on your preference and convenience. You can access the lodge from Kampala/Entebbe by private or public transport, which takes approximately 8-9 hours. Public transport costs around USD 12 per seat, and you can hire a motorcycle or special taxi from Kabale, Miko, or Kisoro towns to take you to the lodge for about USD 30. Alternatively, you can take a flight from Entebbe International Airport to Kisoro airstrip and then be transferred to the lodge.
If you're coming from Kigali, Rwanda, you can reach Heras Country Resort, which is a 4-5 hour drive crossing border points of Cyanika or Katuna from Rwanda to Uganda, and then proceed to the Resort from Kabale and Kisoro towns, which takes 1-2 hours' drive each way to the lodge.
During your stay at Arcadia Lodge, you can enjoy amenities such as free Wi-Fi internet, a fully stocked bar, and a restaurant that serves both local and intercontinental cuisine.
Unforgettable Activities to Enjoy During Your Stay at Arcadia Lodge
Discover the natural wonders of Uganda by participating in various activities during your stay at Arcadia Lodge, such as gorilla trekking, bird watching, hiking, and canoeing on Lake Bunyonyi.
Gorilla Trekking at Bwindi Impenetrable Forest from Arcadia Lodge
When you stay at Arcadia Lodge Lake Bunyonyi, you'll have the opportunity to go gorilla trekking in the Bwindi Impenetrable Forest. You can choose between the Rushaga sector or the Nkuringo sector, which are just a short drive away. Gorilla permits cost between USD 70 and USD 700 per person, depending on your citizenship, and we recommend booking at least three to five months in advance to secure your spot. Contact us to help you book your permits in advance so you can have an unforgettable gorilla trekking experience.
Experience the Unique Gorilla Habituation in Bwindi Forest
Bwindi Impenetrable Forest National Park offers a unique Gorilla Habituation Experience that allows visitors to spend four hours with semi-habituated mountain gorillas. This extended time with the gorillas provides a rare opportunity to help them acclimate to human presence for future trekking. Unlike the traditional trekking, the habituation experience is limited to only four people in a group, ensuring a more intimate experience.
To participate in this unique experience, visitors must obtain a gorilla habituation permit, which costs USD1500 per person per trek. We recommend booking the permit in advance to secure your spot, as they tend to sell out quickly due to high demand. Contact us to book your permit and prepare for an unforgettable gorilla habituation experience in Bwindi Forest.
Experience the Unique Golden Monkey Trekking and Habituation near Arcadia Lodge
If you're looking for a unique wildlife experience during your stay at Arcadia Lodge, consider embarking on a golden monkey trekking or golden monkey habituation adventure in Mgahinga Gorilla National Park. The park is only a 1-2 hour drive away from the lodge. With a golden monkey tracking permit costing only USD100 and golden monkey habituation costing USD135 per person (including park entrance fees), you can enjoy a rare opportunity to observe these playful primates in their natural habitat.
Bird Watching in Bwindi Impenetrable National Park
At Arcadia Lodge Lake Bunyonyi, you can enjoy bird watching with over 400 bird species found in the nearby Bwindi Forest. Whether you are relaxing on your room balcony or taking a full day birding activity organized by the lodge, you will have the opportunity to spot a variety of unique bird species. The lodge can also arrange for a knowledgeable guide to accompany you on your birding excursion to ensure you make the most out of your experience.
Immerse in the Rich Batwa Culture
Experience the unique and vibrant Batwa culture during your stay at Arcadia Lodge Lake Bunyonyi. Immerse yourself in the daily life of the Batwa people, known for their rich cultural heritage, local dances and art.
Get an insight into the traditional practices and beliefs of the Batwa people as you interact with them. Take part in a guided tour to their homes and listen to fascinating stories about their history and customs. You can also visit local community schools and engage with young children in class, giving them scholastic materials as a way to contribute to their education.
Don't miss out on this incredible opportunity to learn about and celebrate the Batwa culture. Book your stay at Arcadia Lodge and discover the beauty of Uganda's cultural diversity.
Explore the Flora and Fauna of Bwindi Forest on a Guided Forest Walk
Discover the beauty of Bwindi Impenetrable Forest on a guided forest walk during your stay at Arcadia Lodge Lake Bunyonyi. Immerse yourself in the lush greenery of the forest and witness the diverse flora and fauna. With the help of an experienced guide, you will learn about the different species of plants and animals that thrive in the forest, and even have the chance to spot some rare bird species.
As you trek through the forest, keep your eyes peeled for unique plant species like the African yellowwood and the giant lobelia. You may also encounter some of the forest's inhabitants like primates, butterflies, and small mammals. Your guide will provide insights into the forest's ecology, including its conservation efforts and the importance of sustainable tourism.
Take a break from the hustle and bustle of daily life and reconnect with nature on a guided forest walk at Bwindi Forest.
Enjoy Dug-Out Canoeing and Bird Watching at Lake Bunyonyi
During your stay at Arcadia Lodge, you can take a 1-2 hour drive to Lake Bunyonyi and indulge in the serene experience of dug-out canoeing. Explore the historical islands of the lake, soak up the scenic views and keep an eye out for the variety of bird species that call the area home. Whether you're a bird-watching enthusiast or simply looking for a peaceful escape, Lake Bunyonyi is a must-visit destination.